Bio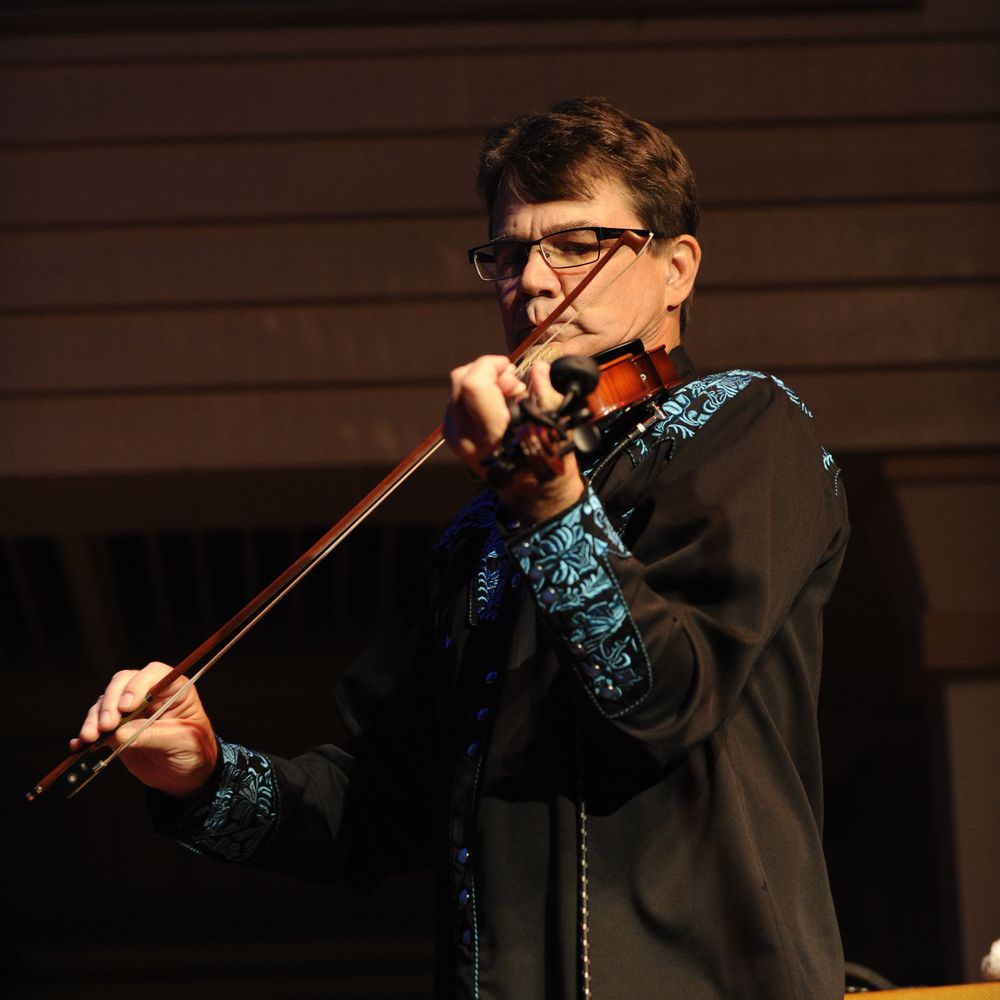 Years of Pickin', Strummin', and Bowin'
Ernie was born in Ft. Leonard Wood, MO, where he spent his childhood in the early 1960s playing in the woods, picking boysenberries, and learning his first tunes on his brother's Harmony acoustic guitar. He moved with his family to Bakersfield, California, in 1966, and since then he has performed in a number of established California-based groups.
In 1979, Ernie joined the company of Tom Hunnicutt, who - at that time - was the leader of a Folk/Bluegrass band, the Honeybee Ridge Gang. The gang performed at a variety of functions, one of which was hosted by Buck Owens.
In 1981, the Honeybee Ridge Band disbanded, and Ernie found a new home as a member of the Moosehead Band, the brainchild of Kenny Walters who asked Ernie to give his band a try, and that he did.
The Moosehead Band performed up to 2009, and during the band's 28-year run, the group had the opportunity to compete in the Seagram's 7 Battle of Bands in Nashville, Tennessee, where the members represented Southern California and took 3rd place in 1983. In addition, the group opened for such greats as John Anderson, Asleep at the Wheel, the Bellamy Brothers, the Flying Burrito Brothers, and Bailey and the Boys. The band also performed with Jim Hager from the Hager Brothers, Mayf Nutter, legendary Roy Nichols and Mark Yeary of Merle Haggard and the Strangers, and Mark Herndon from the Country group Alabama.
After the Moosehead Band separated, Ernie did some soul searching and discovered that he enjoyed playing Bluegrass again, and in December 2009, Ernie accepted an invitation to be a member of Highway 65, a Bluegrass band, based in Bakersfield. He played fiddle and dobro in that band and sang.  After a year stint with Highway 65, Ernie became a member of The Fruit Tramps, a Rock-a-Billy, Americana group in Bakersfield, California, from 2012 until 2015.  The group mostly played at Buck Owens' Crystal Palace in Bakersfield and enjoyed offering original music to the public. 
A major highlight was when Ernie was asked to open for Willie Nelson and Family by Olen Taylor of the Wichitas. That band eventually formed into The Fruit Tramps. Ernie accepted and opened the show with the group. It was an awesome concert. 
Currently, Ernie plays in Johnny Owens and the Bakersfield Sound. Johnny is Buck Owens's youngest son who strives to keep his father's music alive. The group performs regularly at Buck Owens's Crystal Palace. 

Ernie also works on his original music. He truly enjoys meeting new friends along the way.
Ernie Lewis's enthusiasm is contagious. Enjoy.
Photo credit: Michael Caulfield